June 05, 2018 - BALLERINE LACE UP ORO ANCA STETCO SHOES
May 30, 2018 - ANCA STETCO CS, L'ARTE SCULTOREA IN FORMATO CALZATURA
May 04, 2018 - LAST SATURDAY by POLINA DOBREVSKAYA and YVONE VIONNET - Just Magazine - Pleasant sense of fashion injection
dress H&M / tights Alan Socks / shoes Anca Stetco / earrings Bijumaniya / dress Alberta Ferretti / shoes Anca Stetco / jewelry H&M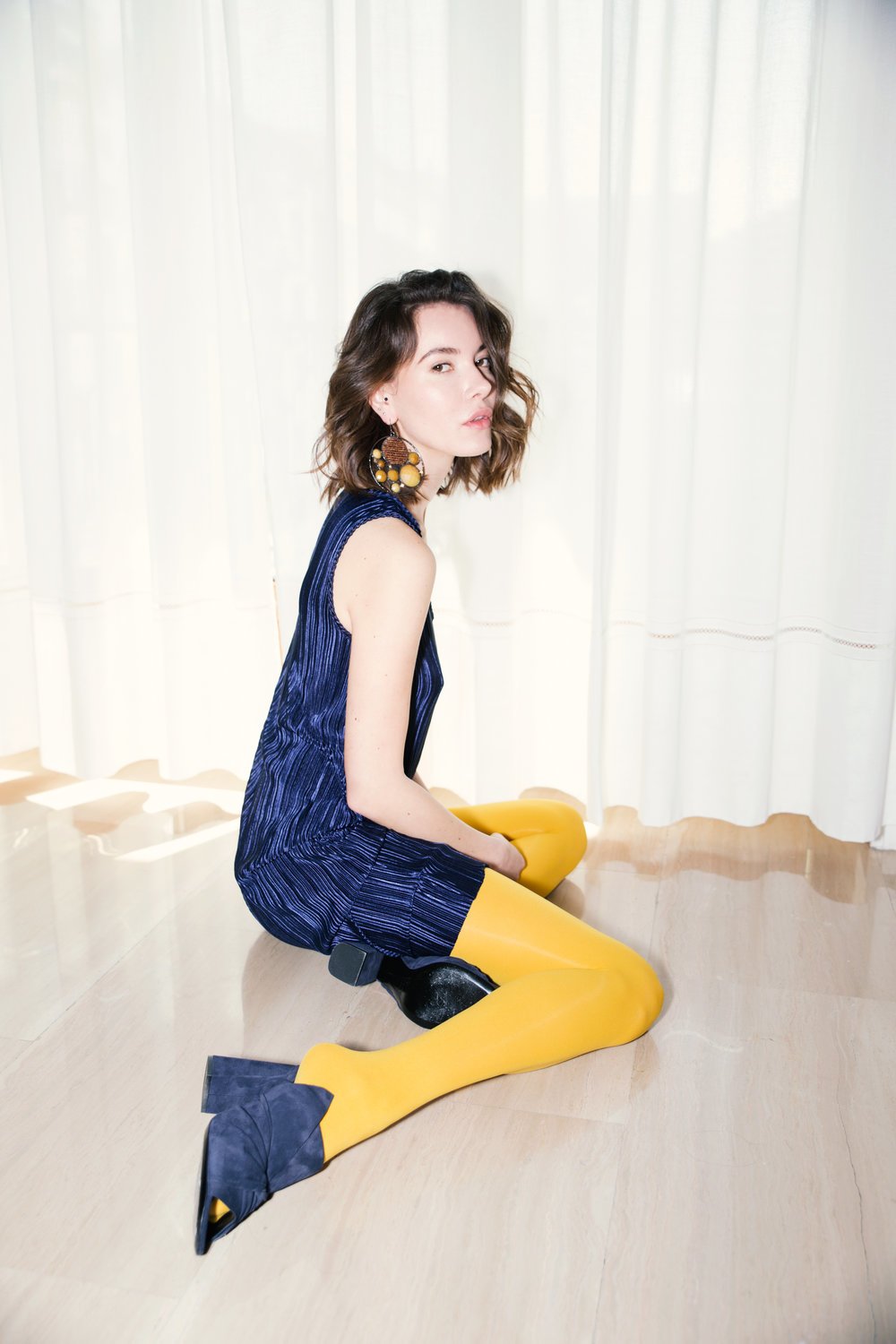 bodysuit Bershka / overwear Zara / shoes Anca Stetco
April 26 - 12, 2018 - SCARPE ANCA STETCO: CALZATURE DI DESIGN PER DONNE CONTEMPORANEE
March 2018 - Vogue Spring Fashion Issue
February 26 - 28, 2018 - Coterie NYC
February 10 - 13, 2018 - MTC World Fashion
February 2018 - VOGUE BRITISH MARCH
January 27 - 30, 2018 - SUPREME DUSSELDORF
December 13, 2017 - BLING BLING BY THILINI GAMALATH
http://www.kaltblut-magazine.com/bling-bling-by-thilini-gamalath/
A KALTBLUT exclusive womenswear editorial. Photography by THILINI GAMALATH. It's bling, bling time, again, Sparkling lights are everywhere. Models are ANNA @ WOMEN and KARINA @ WONDERWALL. Styling by POLINA DOBREVA. Make up by SILVIA GALEAZZO. Hair done by UMBER NEGOZIO @ TONI&GUY TORINO.
Karina wears: Bomber: GALOFARO Skirt: GALOFARO shoes:ANCA STETCO earrings: H&M
both models wear ABODI shoes: ANCA STETCO
Photographer: THILINI GAMALATH – www.thilinigamalath.com
Models: ANNA @ WOMEN + KARINA @ WONDERWALL
Stylist: POLINA DOBREVA
MUA: SILVIA GALEAZZO – www.silviagaleazzo.com
Hair Stylist: UMBER NEGOZIO @ TONI&GUY TORINO
Assistants: MAYA BEN FREJ + RICCARDO CAGNOTTO
Location: LOFT IMAGINARIUM STUDIO
November 8, 2017 - MARILINA CURCI - grazia.it
I colori e la fotografia sono quelli di una fiaba moderna, ma "Ogni tuo respiro", film che vede esordire alla regia il pluripremiato attore Andy Serkis, è una love story fuori dagli schemi che racconta l'incredibile forza d'animo e la voglia di vivere di Robin Cavendish (Andrew Garfield) e di sua moglie Diana Blacker (Claire Foy, la giovane Elisabetta di The Crown) di fronte a un destino avverso.
NATALIE ROBINSON - PART ONE: WHY "THE MICAM" IS THE LEADING INTERNATIONAL FOOTWEAR FAIR?
NATALIE ROBINSON
Celebrity Stylist, Style Critic & Blogger, Natalie Robinson is based in London. Her creative platform The Lifestyle Collective Blog is to inspire, educate and motivate diverse minds.

My experience of fashion week season would not be the same without a trip to Milan, except for Autumn/Winter 2017 back in February due to a personal bereavement. I made a comeback, however, at "The 84th MICAM – September Edition 2017″ to which the Italian Trade Agency (ITA) invited me. It was an honour to be part of an international delegation of 35 selected buyers and journalists to discover and report on luxury brands from the world's leading footwear fair, "The MICAM," based in Rho Fiera, Milan. The MICAM is an innovative platform that boasts an exhibiting area of 63,000 square meters and over 1,400 companies. Furthermore, the MICAM attracts approximately 88,000 visitors. The exhibition took place from Sunday 17th – Wednesday 20th September. I attended the MICAM for the first three days, after which I got to enjoy Milan Fashion Week Spring/Summer 2018.
I stopped in my tracks when I came across the collection of designers Anca Stetco and Mariana Stetco of MuSte Studios Bags – two sisters whose work is a harmonious combination of stunning bags and shoes made in Italy. Anca Stetco is the founder and designer of luxury shoe brand Anca Stetco. Mariana Musclot Stetco is the founder and designer of MuSté Studios bags that are authentically simple in design, but yet, juxtaposed with quirky detail and funky colours. I felt an instant connection with their collections. Subsequently, a form of positive energy urged me to speak to Anca and Mariana. I appreciate their exquisite pieces, which are luxurious in quality and style. My wardrobe is relatively classic, with fun-loving elements to reflect my dynamic personality, hence my interest in Anca Stetco and MuSte Studios bags. Overall, the price point is between €300-€500. "We work with few workshops in Italy, known for high-quality production with a low markup," says Anca and Mariana Stetco.
September 17-20, 2017 - THEMICAM AND MIPEL
Visit us at Hall 3 Stand M08 to discover more about the S/S 18 collection.
Enjoy!
September 15, 2017 - THEMICAM AND MIPEL | TRADE FAIR FEATURE BAGS, FOOTWEAR AND LEATHER ACCESSORIES by GIULIA FUCILE
September 8, 2017 - BOHO CHIC by GIULIA FUCILE
June 28, 2017 - TAKE YOUR TIME by livingaurora.com
May 25 , 2017 - OB-SESSION OF THE DAY : BEAUTIFUL WHITE TREND!
May 9 , 2017 - OB-FASHION.COM
March 2 - 8 , 2017 - Paris Fashion Week - Showcase Fall/Winter 17/18
WE ARE PLEASED TO INVITE YOU AT ANCA STETCO'S F/W 17
SHOES COLLECTION SHOWCASE.
March Thu 2nd – Wed 8th
from 10am to 8pm
236 Rue Saint Martin
Paris
February 22 -27 , 2017 - Milan Fashion Week - Showcase Fall/Winter 17/18
WE ARE PLEASED TO INVITE YOU AT ANCA STETCO'S F/W 17
SHOES COLLECTION SHOWCASE.
February Wed 22nd – Mon 27th
from 10am . to 7pm.
Via Tortona 32
MODEM Milan Women's Collections Fall/Winter 2017/2018
February 20 - March 3, 2017 - Sales campaign Fall/Winter 17/18 in Late Showroom Milan
Sales Campaign F/W 17/18
LA.TE Showroom
Corso San Gottardo 22
Milan
FEBRUARY 16, 2017 - PRESS - The weekly newspaper of Vicenza - BIS
FEBRUARY 9, 2017 - PRESS - GRAZIA Magazine Italy